By Elena Sineva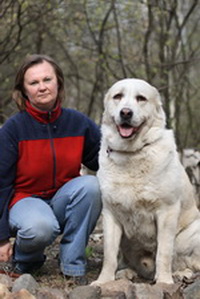 Our SHERIFF AGA kennel (FCI registration # 9252) is specializing in breeding the Central Asian Shepherd dog, the Turkmen Alabai.
All of our Central Asian Shepherds are very large and powerful representatives of the Alabai breed, with the excellent bone structure, and very beautiful heads. I should also say that our Central Asian dogs are not only of excellent FCI standard exterior, but they also have a typical Alabai breed behavior, with a great personality and a well-balanced state of mind. All of them have been repeatedly tested for their breeding qualities, always getting the highest score T1.
Our kennel is located 200 km from Moscow, in an ecologically clean area. In 2007 it was awarded the Diploma of the World Canine Organization (FCI) for its "outstanding achievements in breeding and exhibiting".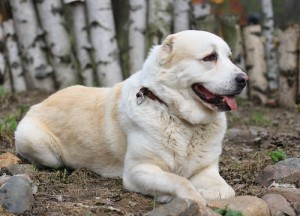 All of our dogs are provided with comfortable kennels and necessary exercise, including long walks in the fields, and swimming.
The Nursery department is supervised by its own experienced vet who oversees the health of the dogs and regulates their proper growth.
Due to these efforts, our pedigree dogs have won a lot of titles: Junior Champion of Russia, Champion of Russia, Belarus, and Moldova, Inter-champion, Multi-champion, etc. Many of them have won Best-of-Breed (BOB) titles at various international, national, and regional dog shows.
The Sheriff Aga kennel is well known for its high-quality Alabai dogs offspring. Our puppies always get an "excellent" estimate at dog shows, and many of them have already become the Champions. For breeding purposes, we always try to use purebred dogs from Turkmenistan.
In Turkmenistan, the purebred Alabai dogs are considered to be a national treasure, and they are not allowed to be exported from the country. We also value these dogs very high.
We always maintain close relations with the owners of puppies purchased from us. Any owner can always count on us for advice on training or puppy care, on the starting of their show dog careers, as well as the high-quality puppy food supply.
If you are thinking of owning a purebred Central Asian Ovcharka, the Alabai, we'll be more than happy to offer you our attention, support, and honesty.
About the author: Elena is the managing director of the SHERIFF AGA kennel in the Moscow area, Russia. She's a dog expert, dog trainer, and breeder. Website: http://sherif-aga.ru